⇔ Report Maintenance Here! ⇔


---
---
♦ Click here to see information from the Government on Student Loans! ♦
⇔ Ministry of Housing, Community & Local Government Guidance ⇔

≈ Q&A from Unipol RE rental instalments ≈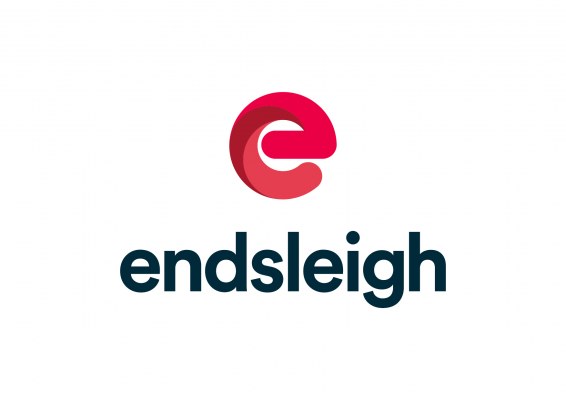 Updated 03/04/2020
Your Questions answered! Please see link below to an update in regard your Endsleigh Contents Insurance during Covid-19:
Endsliegh Coronavirus Update: Q&A
To access your policy information click here
Updated 27/03/20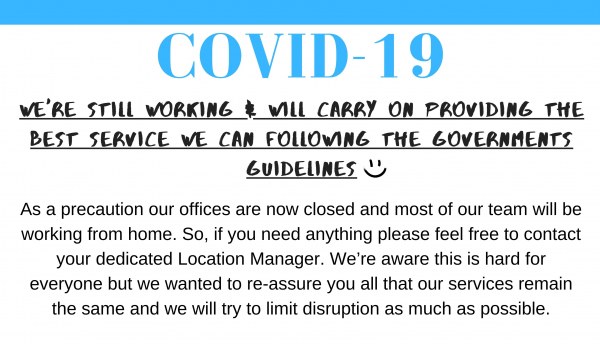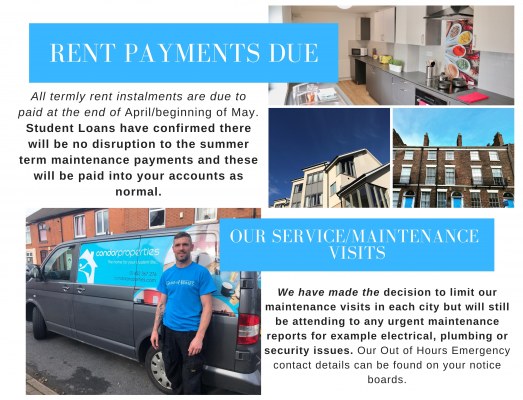 Click here to see information from the Government on Student Loans!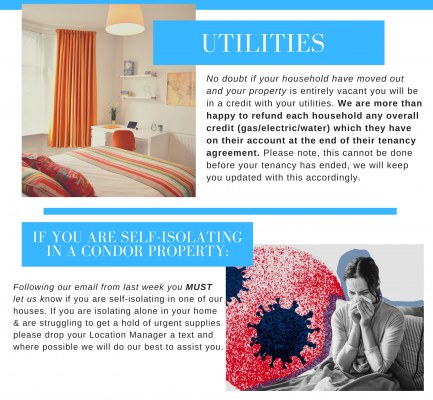 NHS – Overview / Common Questions
https://www.nhs.uk/conditions/coronavirus-covid-19/

Public Health England provides specific advice, including the current situation in the UK. Their advice is updated at 2.00pm each day and can be consulted at:
https://www.gov.uk/guidance/coronavirus-covid-19-information-for-the-public


If in the meantime we can be of any more assistance, please get in contact.

Regards,
Condor Properties
Updated: 16/03/2020
Condor Properties Covid 19 Status Update
Given the increased concern surrounding Covid-19 (Coronavirus), The Team at Condor would like to reassure all our tenants and provide you updates on our business contingency plan. We will email out all future updates & will update our blog page as and when required which is accessible at any time via a mobile device.
https://www.condorproperties.co.uk/blog/2020/what-you-need-to-know-about-coronavirus01
Condor Properties has taken several measures to ensure staff have increased access to hand sanitising products and cleaning products for all its staff members. We have ensured we have circulated information concerning personal hygiene and minimising the spread of the virus to all our staff members.
To safeguard our staff members who constantly visit our properties, when arranging maintenance visits, we will ask our tenants if anyone in the property is self-isolating or has been confirmed as having the Coronavirus. If anyone is self-isolating or has a confirmed case then unfortunately, we will ask to reschedule the visit.
What we need you're help with?
You must ensure you are forthcoming in letting us know if you have tested positive with COVID-19.
You must ensure you let us know if you have been in contact with anybody who has COVID-19.
Please ensure you are looking after your personal hygiene and using hand sanitiser to help minimise spreading the virus.
Other than the above we will go about our business as usual and follow all the health guidance set out by the government until we're advised otherwise.
NHS – Overview / Common Questions
https://www.nhs.uk/conditions/coronavirus-covid-19/
Public Health England provides specific advice, including the current situation in the UK. Their advice is updated at 2.00pm each day and can be consulted at;
https://www.gov.uk/guidance/coronavirus-covid-19-information-for-the-public
Updated: 03/03/2020
Given the current situation with regards to Coronavirus, we thought it would be useful to provide you with some links for further information/guidance from the university, NHS and Public Health England – please take the time to read through and follow the advice given accordingly;
University Information / Guidance
Exeter https://www.exeter.ac.uk/students/coronavirus/
Cardiff https://www.cardiff.ac.uk/media/media-statements/coronavirus-outbreak-in-china
Swansea https://www.swansea.ac.uk/about-us/coronavirus/
Liverpool https://news.liverpool.ac.uk/coronavirus-advice-and-guidance/
Loughborough https://www.lboro.ac.uk/internal/coronavirus/
Aberystwyth https://www.aber.ac.uk/en/important-info/notices/title-228878-en.html
NHS – Overview / Common Questions
https://www.nhs.uk/conditions/coronavirus-covid-19/
Public Health England provides specific advice, including the current situation in the UK. Their advice is updated at 2.00pm each day and can be consulted at;
https://www.gov.uk/guidance/coronavirus-covid-19-information-for-the-public